American Society for Environmental History
Welcome to UGA Press's ASEH 2023 Virtual Exhibit
Below you'll find the same kind of information we'd make available at our in-person book exhibit: a chance to meet with an editor, featured books, and a conference discount.
From March 22nd through April 26th we're offering a 40% ASEH discount  AND free shipping on the featured titles below. Use code 08ASEH23 at checkout.
ASEH 2023 Featured Titles
Meet the Editor: Mick Gusinde-Duffy
Work that tests assumptions and explores the intersections of race, class, and gender in interesting ways is always welcome, as is work that takes a (well-grounded) stand. I encourage books that meld empirical research with theoretical insight, and strive to share that evidence and thought in clear, compelling prose. In academic publishing, we often speak of scholarship for the public square. It's a worthy goal, even when we can't predict how many readers will show up at that square. I try to help authors prepare themselves and their writing for smart, engaged readers.
Beyond the book, I have a long-standing commitment to digital scholarship and remain deeply engaged in seeking the best ways to truly publish (not post) that scholarship. Most recently that includes digital "supplements" for books in the New Perspectives on the Civil War Era series, as well as serving on the University of Georgia's Digital Humanities Steering Committee, part of a broader DIGI collaboration with UGA Libraries, faculty, and the Willson Center.
So, I seek fresh ideas in books and digital scholarship that bring lucid but constructive complexity to our established stories. Books that make me go "hmmm?" That's what I seek. Surprise me.
ASEH 2023 Book Display
An Abundance of Curiosities
The American Chestnut
And the Coastlands Wait
A Beachcomber's Guide to Fossils
Beyond the Mountains
Blue Ridge Commons
Bulldozer Revolutions
Coastal Nature, Coastal Culture
Conserving Southern Longleaf
Coyote Settles the South
Deep Cut
The Embattled Wilderness
Environmental History and the American South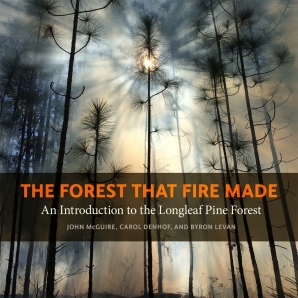 The Forest That Fire Made
From Swamp to Wetland
Gardenland
A High Low Tide
The Human Animal Earthling Identity
Irreplaceable
Landscape with Reptile
Mountain Madness
Nuked
Pandora's Garden
Poison Powder
Sand, Science, and the Civil War
Shadows of a Sunbelt City
The Suburban Wild
Sudden Spring
The Takeover
They Saved the Crops
This Impermanent Earth
We Want Land to Live
Wild American Ginseng
Our Current Catalog
EXAM AND DESK COPY ORDERING
If you have adopted one of our books for course use, and your school's bookstore has ordered at least ten copies, you are entitled to one free copy of the book for your own use. Use our online order form for desk copies.
TO EXCERPT MATERIALS FOR CLASSROOM USE
Go here, then follow the instructions under the "Permission to Photocopy" heading.
ASEH 2023 Sale Details and Ordering Information
Sale ends April 26, 2023
Order online or by phone (1-800-848-6224)
To receive your 40% discount, enter the code 08ASEH23 during online checkout (see below for details), or be sure to mention 08ASEH23 if ordering by phone
Discount is taken off the list price
40% discount does not combine with any other UGA Press discount offers currently in effect
Discount applies to currently available books only
Ebooks excluded from the discount